Are you ready for the most-awaited and entertaining show of the year? Because Bigg Boss is back with rivalries, twists and a little bit (not really) of craziness.
Now, if you're in Bangladesh and itching to be a part of this madness-filled show, we've got the inside scoop on how to watch all the action of the Bigg Boss Season 17 in Bangladesh.
So, let's get started!
---
What's Cooking in Bigg Boss Season 17?
Before discussing how to watch Bigg Boss in Bangladesh, let's take a sneak peek at what's in store for you in this season of chaos, camaraderie and contests.
The 'Dil, Dimaag, aur Dum' Theme

This season is all about 'Dil, Dimaag, aur Dum' (heart, mind, and courage). Contestants are divided into three teams, Dil, Dimaag, and Dum, and their gameplay is influenced by the qualities associated with their respective teams.
Plus, Bigg Boss is taking a more active role this season, closely following the contestants without showing favoritism, so you guys, be ready for an exciting mix of politics and personalities.
---
Meet the Bigg Boss 17 Contestants
Here's a lowdown of the contestants living under the same roof in Bigg Boss Season 17:
Ankita Lokhande
Vicky Jain
Soniya Bansal
Arun Mashettey
Sana Raees Khan
Navid Sole
Khanzaadi (Feroza Khan)
Anurag Dobhal
Jigna Vora
Sunny Arya (Tehelka Bhai)
Mannara Chopra
Munawar Faruqui
Rinku Dhawan
Abhishek Kumar
Neil Bhatt
Aishwarya Sharma
Isha Malviya
---
What Are The Dil, Dimagh, Dum Rooms
The Bedroom Makaan Allotment is the most exciting part of this season. Here's a scoop on the three unique bedrooms:
Dil Bedroom (Makaan No. 1)
It's a room filled with dreamy whites and pinks, perfect for couples and forming connections. Plus, this season introduces the Therapy Room, a place for contestants to find relaxation and support.
Dimag Bedroom (Makaan No. 2)
The room is chess-themed, with vibrant chess pieces. It also has an Archive Room where selected contestants can access the house footage. Well, to be honest, I can't wait to see the chaos that will erupt from this footage thing.
Also, the members of this bedroom are the Captains of the house, overseeing household duties.
Dum Bedroom (Makaan No. 3)
This room is filled with gothic artwork and bold black hues. It also has an exclusive dining area for late-night chats. And don't miss the telephone, referred to as the "Answering Machine," placed in a black miniature castle, adding a touch of mystery.
---
Where To Watch Bigg Boss Season 17 in Bangladesh?
You can watch Bigg Boss Season 17 in Bangladesh on the following:
Colors TV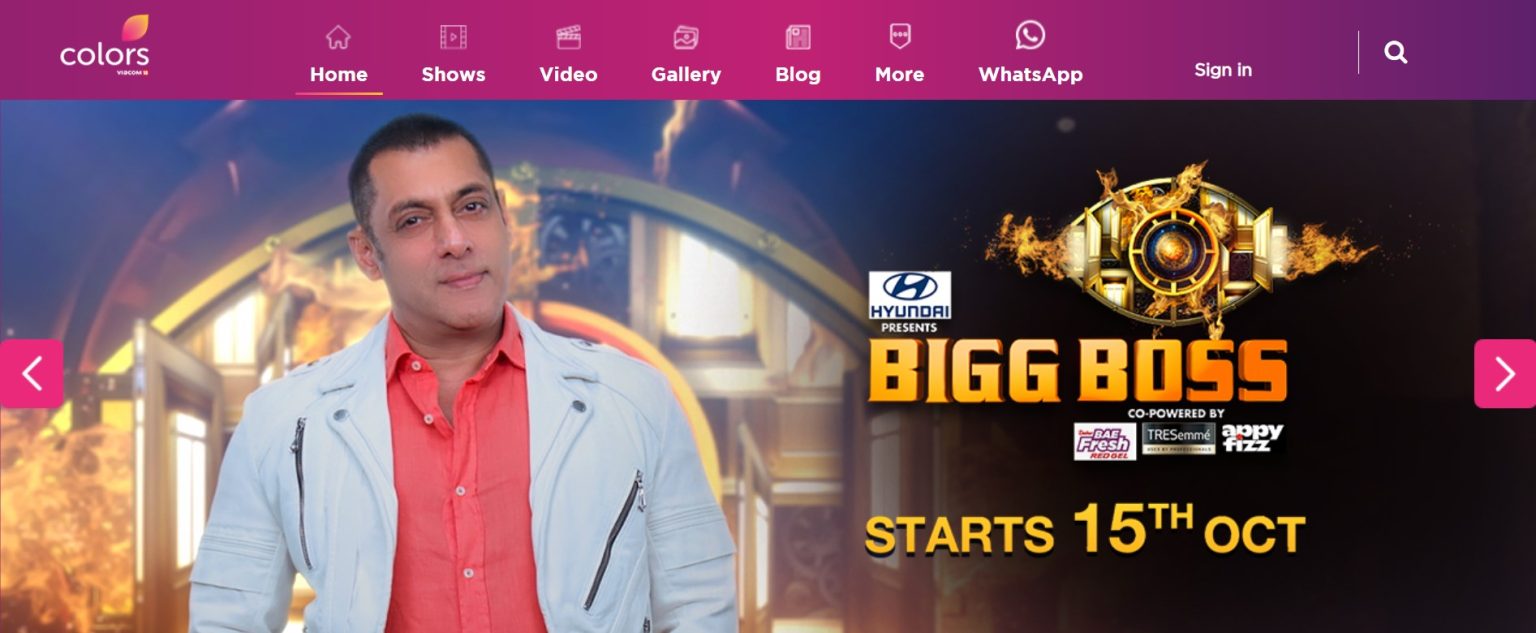 This Indian channel is the official home of Bigg Boss. While it's primarily available in India, you can access it through some cable providers or streaming services in Bangladesh.
JioCinema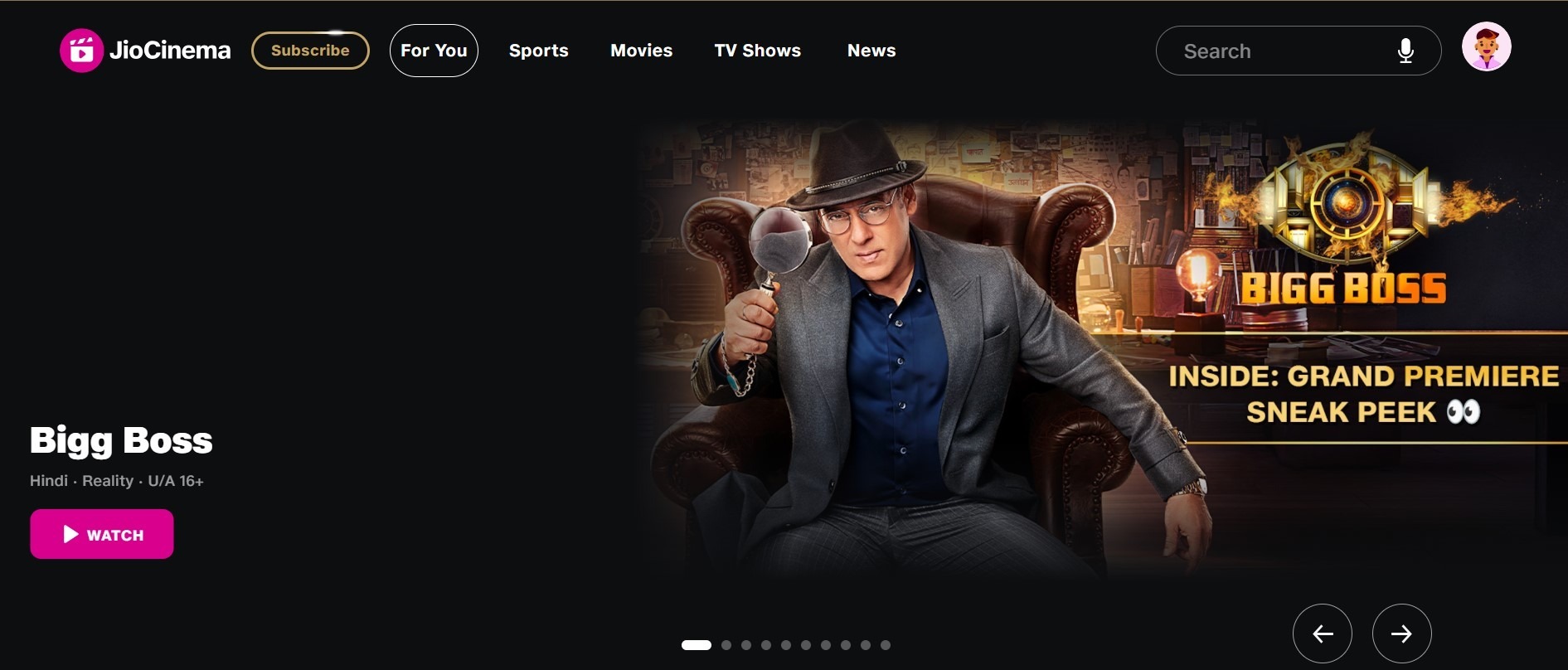 If you're looking to catch all the episodes of Bigg Boss Season 17 outside India and even revisit past seasons, JioCinema is your go-to platform. It's an OTT streaming service by Viacom18, where you can stream all the action and drama of the reality show. Just subscribe to JioCinema and dive into the fun.
However, there's a catch. Colors TV and JioCinema are primarily designed for an Indian audience. So, if you're in Bangladesh and still want to watch Bigg Boss Season 17, we've got a solution that's as exciting as the show itself!
---
How to Watch Bigg Boss Season 17 in Bangladesh?
Here's what you need to do to watch Bigg Boss Season 17 in Bangladesh:
Subscribe to a reliable VPN provider, such as ExpressVPN.
Download and install the VPN app on your device.
Sign in to the VPN app with your credentials.
Go to JioCinema's official website or download its app.
Log in to your JioCinema account or create a new one.
Search for 'Bigg Boss' and enjoy!
---
ExpressVPN – Most Reliable VPN to Watch Bigg Boss Season 17 in Canada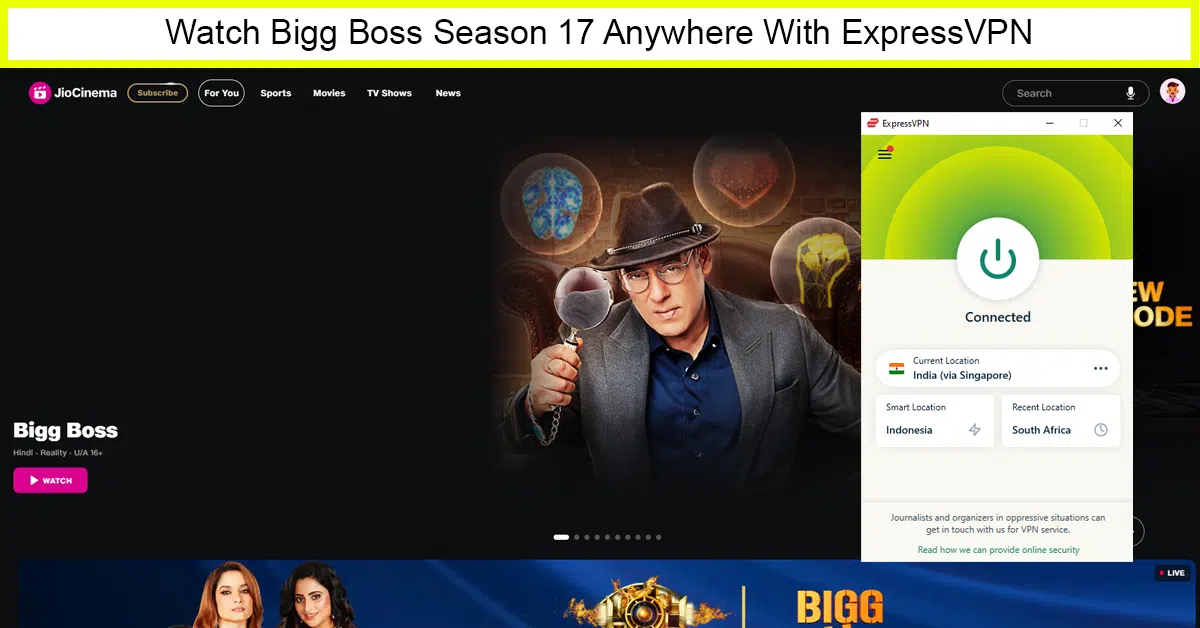 ExpressVPN is an unparalleled VPN provider that expertly works around geo-restrictions and allows users uninterrupted access to geo-blocked content on the internet.
The following are some of the features that ExpressVPN offers:
ExpressVPN is the finest VPN to watch Bigg Boss Season 17 in Bangladesh, with 3,000 servers in 94 countries.
ExpressVPN has a monthly fee of $6.67/month (Special Discount) for a 1-year plan + an additional 3 months. You can avail of this fantastic discount and save 49% on the subscription.
24/7 customer support is provided to the users.
ExpressVPN unblocks streaming sites like  Netflix, Disney+, Hulu, and Amazon Prime Video.
You can operate eight connections simultaneously.
User data is shielded by AES-256 encryption, TrustedServer network, and private DNS.
ExpressVPN's US servers provide download speeds of 89.42 Mbps, upload speeds of 84.64 Mbps, and a low ping of 110 ms with a 100 Mbps connection.
30-day money-back is guaranteed.
---
What Else Is Worth Watching on JioCinema?
If you want to watch something other than Bigg Boss, here is a list of free content available on JioCinema that you can enjoy.
Bhediya
Fifty Shades of Grey
Taali
Shark Tank
Evil Dead Rise
Rafuchakkar
Aquaman
Ishq Next Door
Joker
Interstellar
---
Where Else Can You Watch Bigg Boss Season 17?
Besides Bangladesh, you can watch Bigg Boss Season 17 in the following other countries:
---
FAQs
Is Bigg Boss Season 17 available in Bangladesh?
While Bigg Boss Season 17 is primarily available on Colors TV and JioCinema in India, viewers in Bangladesh can still watch the show using a reliable VPN. By connecting to an Indian server, you can bypass the geo-restrictions and enjoy all the drama and excitement from the comfort of your home.
How do I watch Bigg Boss Season 17 in Bangladesh?
To watch Bigg Boss Season 17 in Bangladesh, you'll need to subscribe to a high-quality VPN provider like ExpressVPN.
Why should I choose ExpressVPN to watch Bigg Boss Season 17?
ExpressVPN is a reliable and top-tier VPN provider with exceptional performance and security.
---
Conclusion
And there you have it, folks! The thrilling world of Bigg Boss Season 17 awaits you, and now you have the key to unlock all the action. With ExpressVPN as your trusted VPN, you can bypass geo-restrictions and dive headfirst into the chaos, drama, and unexpected twists.
So, get ready to get in some guilty pleasures and experience Bigg Boss Season 17 like never before. It's time to join the madness and make your predictions. Who will win? Who will clash? Who will form unbreakable bonds? It's all part of the Bigg Boss!