Nicole Hirsch Whitaker, cinematographer for One Piece, reveals that the manga adaptation reused pirate ships already designed for Black Sails.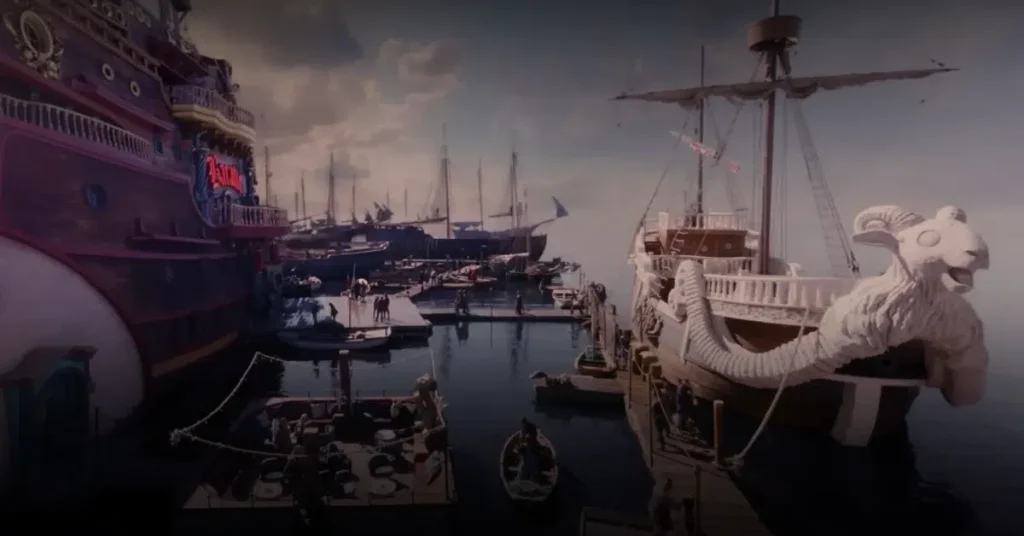 One Piece reused pirate ships first constructed for Starz's Black Sails, the live-action adaptation's cinematographer Nicole Hirsch Whitaker recently revealed.
In an interview with YouTube channel Tekking 101, Hirsch Whitaker confirmed that the Netflix version of Eiichiro Oda's One Piece comic renovated boats previously belonging to Black Sails. "The unusual thing about this [production] was these were ships that had been built for another show — that was a very different show — called Black Sails," she revealed. "And the production designer repurposed these ships and basically one of the reasons we went to South Africa [to film] was because of that." Hirsch Whitaker has revealed that none of One Piece's sailing sequences were shot in the ocean, but were instead filmed in three big studio-based tanks.
While Hirsch Whitaker readily confesses to using pirate ships from another production for One Piece, this should not give fans the notion that none of the show's sets were custom-made. On the contrary, production designer Richard Bridgland stated in a recent interview that several of One Piece's locations, including protagonist Monkey D. Luffy's (Iñaki Godoy) home town was built from scratch. Bridgland went into detail on the architecture of the live-action Windmill Village, saying that the manga's coastal town was transported to the sea itself to better establish how Luffy's dreams of being a pirate come true.
@PeatWasuBrasil shared stills of the One Piece pirate ship located in Brazil, Rio de Janeiro:
Galera que mora no RJ a Netflix colocou o navio One Piece na praia de Copacabana.

Peat take a look. We have a One Piece ship here in Brazil, Rio de Janeiro..I don't know if I'm going to get enter, because the line is enormous.#peatwasu #captainpeat #babyfeat pic.twitter.com/oBsbcibnBh

— Peat Wasu Brasil 🇧🇷 #BLU (@PeatWasuBrasil) September 8, 2023
One Piece VFX Bosses Talk About Luffy's Gum Gum Powers
Other members of the One Piece crew applied similar thinking to their work on the series. This includes VFX supervisors Scott Ramsey and Victor Scalise, who recently revealed their approach to Luffy's Gum Gum abilities, which give his body elastic features. Ramsey and Scalise stated that deciding how realistic the powers should look was a major challenge in bringing this component of the comic to life in live-action. "At what point do you keep it anatomically correct? Or do you just go full cartoon with it?" Scalise stated. "I feel like all the Luffy stuff is grounded in a way that, if these physics could exist, this is what [Gum Gum powers] would really do."
Ramsey and Scalise also emphasized Iñaki Godoy's role in selling Luffy's powers during One Piece's action scenes, implying that the Mexican star's rigorous fitness regimen for the series paid well. Godoy has since admitted that the brawls covered throughout One Piece Season 1 were not the most difficult aspect of the Netflix adaptation's production. Instead, that honor goes to a fairly calm sequence between Luffy and Koby (Morgan Davies) in Episode 1, "Romance Dawn," which Godoy had to film early in principal photography.