Monkey D. Luffy (Iñaki Godoy), the irrepressible protagonist of the Netflix series One Piece, is never slow to reveal his magnificent scheme to the world. He always makes the bold announcement, "I'm going to be king of the pirates," with a smile that never seems to have known even the slightest hint of self-doubt.
The first time we hear it, and the second, third, and a hundredth time as well, it sounds like a little boy's fantasy. Over the course of eight hour-long episodes, though, that youthful tenacity begins to look less like a cause for concern and more like a cause for hope. One Piece is a celebration of the power of innocent amazement and feels like the pleasant manifestation of a child's imagination.
In all fairness, there are many reasons to initially doubt the abilities of the young man traveling by himself aboard a dilapidated sailboat. When we first meet Luffy, he is without a ship, crew, or chart. All he has is the unwavering conviction that he will lead his crew of pirates to the fabled One Piece, a legendary buried treasure that thousands of people have previously lost their lives trying to discover. But over time, that turns out to be enough. (Well, that and his Mister Fantastic-style flexibility from eating the magical "Devil Fruit" years ago.) As he and his adorably motley squad carve out a reputation for themselves in the occasionally competitive waters, the first season traces his journey from complete joke to a genuine leader.
The first episode feels weighed down with set-up, which may be due to the fact that writers Matt Owens and Steven Maeda are adapting from literally decades of lore – the still-running manga debuted in the 1990s and has since inspired a beloved anime, films, games, novels, and more. However, once the fundamentals are established, One Piece finds its groove by the second or third episode. Luffy sails quickly between adventures, usually devoting two chapters to each. He avoids the Marines, led by the tenacious vice admiral Garp (Vincent Regan), in between fights with colorful pirates like the crazy clown Buggy (Jeff Ward) and the megalomaniacal fish-man Arlong (McKinley Belcher III).
Along the way, Luffy gathers a crew that includes the mysterious thief Nami (Emily Rudd), stoic swordsman Zoro (Mackenyu), cocky sharpshooter Usopp (Jacob Romero), and smooth-talking chef Sanji (Taz Skylar), whose backstories are revealed to us in flashbacks to their childhoods. One Piece, like Max's Our Flag Means Death, is based on a rosy view of piracy that emphasizes pursuing freedom with a new family rather than raiding and plundering, much to the bewilderment of other pirates within the universe who are far more interested in those activities. A few of the series' weaker aspects, such as its underdeveloped Marine characters or its reluctant treatment of social issues like class, oppression, and (species-based) racism, can be covered by the collective embrace of the Straw Hat Pirates (as they come to be known thanks to Luffy's signature accessory).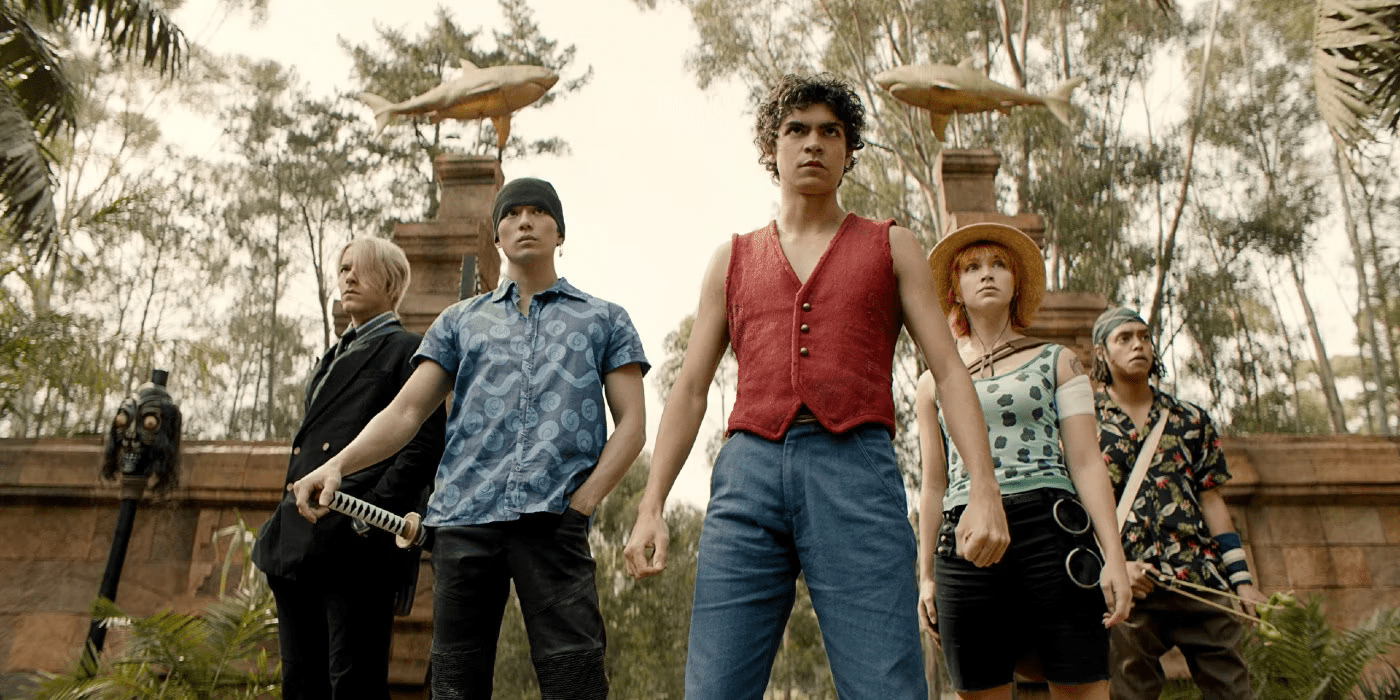 But what One Piece lacks in complexity, it makes up for in utter fun. The Netflix adaptation can't claim full credit for the originality of its universe, and as a relative newbie to this franchise, I can't say how accurately it's been translated. I can say I was tickled by the unique details of a world that borrows equally from modern reality, period drama and pure fantasy. Characters who look like they've just come from an Old Navy sale hang out with characters who look like they might have got off the Black Pearl. Sea snails are semi-sentient telephones, and uniformed seagulls deliver newspapers all around the world. That last sentence would actually make more sense onscreen than it does in writing, but part of the fun of this series is choosing to simply go with it.
The action scenes in the show alternate between being legitimately cool and being jokingly silly. While Godoy's joyful athleticism sells the maneuvers, in the former camp, Luffy using his powers to stretch his neck several storeys high or parry cannonballs with his horrifyingly expanded chest was never going to look cool. The latter is largely supplied by Zoro. His dual blades can gracefully dispose entire rooms full of bad guys, and in a refreshing change from the chopped-up incongruity that plagues so many subpar action films, the camera actually takes a step back and pauses long enough to fully appreciate the artistry of Mackenyu and the stunt team. (At this point, I should mention that the TV-14-rated program might be a little too violent for the young children). The character can't help but add a quirky flourish because this is One Piece: Zoro's defining move is pulling out a third blade to be wielded with his teeth.
Even One Piece's slightly janky appearance is endearing in this fun context: It only contributes to the feeling that this is all one big, happy game of make-believe—even if it was created with an adult writer's eye for consistency. Shanks, Luffy's former mentor, is played by Peter Gadiot, and he has candy-apple red hair that closely resembles a Party City wig. The show neither apologizes for its ridiculousness nor takes itself too seriously. In that regard, its mentality is similar to that of its protagonist, who is quite aware of how absurd most others find his ambitions yet could not care any less.
Both Luffy and One Piece strongly believe that childhood ambitions are important and should not be dismissed as we become older. Instead, they should be seen as north stars that guide us to our most fulfilling aspirations and most fully realized selves. Practically every character in the program has goals they set for themselves as children, such as mapping the entire planet, being the greatest swordsman of all time, or discovering a fabled zone that may be where all the oceans of the world converge. They may appear to be the fancies of a gullible school child from one viewpoint. The series' objectives are sincere and audacious enough to change the course of history. One Piece offers enough entertainment to appeal to the inner kid in both tweens and adults by placing its faith in its characters' young joie de vivre.