During the ongoing strike, Arnold Schwarzenegger was happy to support fellow actors in need.
To support the "journeymen actors facing tremendous economic hardship" during the strike, the Terminator actor was one of several celebrities who donated $1 million each to the SAG-AFTRA Foundation's Emergency Financial Assistance Program in August.
Speaking to Town & Country magazine for its tenth annual Philanthropy Issue, 76-year-old Arnold Schwarzenegger stated that supporting SAG-AFTRA was an obvious choice.
"As soon as you recognize that you are not self-made, you realize that you have to give something back. And when you recognize how good it feels to actually do something for someone else, it gets in your blood," he said.
Noting that he "found great joy in giving something back and helping other people," Schwarzenegger recalled his time spent working with the Special Olympics in the 1970s. This experience inspired him to commit to various charitable endeavors over the years.
"I have made millions of dollars in America. So when you talk about giving a million dollars to SAG for the poor people that are now suffering because of the strike, I didn't think twice," he said.
Added the Be Useful: Seven Tools for Life author, "I earned the money that I have because of America, so I'm more than happy to give some of it away for very important causes."
Other well-known donors who contributed $1 million each with Schwarzenegger were Matt Damon, George Clooney, Leonardo DiCaprio, Jennifer Lopez, Ben Affleck, Julia Roberts, Ryan Reynolds, Blake Lively, Oprah Winfrey, Meryl Streep, Dwayne Johnson, Nicole Kidman, Hugh Jackman and more, according to the SAG-AFTRA Foundation,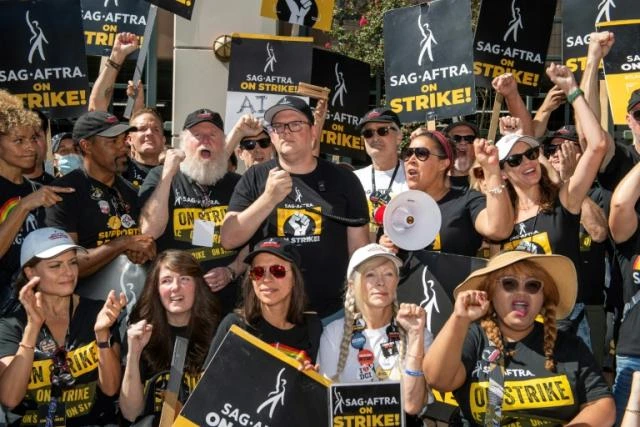 In a statement at the time, Streep remarked, "I remember my days as a waiter, cleaner, typist, even my time on the unemployment line. In this strike action, I am lucky to be able to support those who will struggle in a long action to sustain against Goliath."
"We will stand strong together against these powerful corporations who are bent on taking the humanity, the human dignity, even the human out of our profession," she added. "I am proudest of my fellow actors who have immediately offered to fund the Emergency Financial Assistance Program."
The strike by SAG-AFTRA against the Alliance of Motion Picture and Television Producers (AMPTP) began on July 14. As the strike continues, they had more bargaining discussions with the studios this week (with one significant sticking point being artificial intelligence in filmmaking).
During the strike, actors are not permitted to promote or film motion pictures or television shows, unless a temporary agreement is obtained for the project.
After 148 days, the Writers Guild of America strike came to a conclusion in late September.