AS THE ACTORS' STRIKE NEARS THE 100-DAY MARK, Sarah Paulson, Rosario Dawson, Jessica Lange, Zachary Quinto, Josh Charles, and Ethan Hawke grabbed picket placards and joined chants for a fair contract Thursday morning in New York City.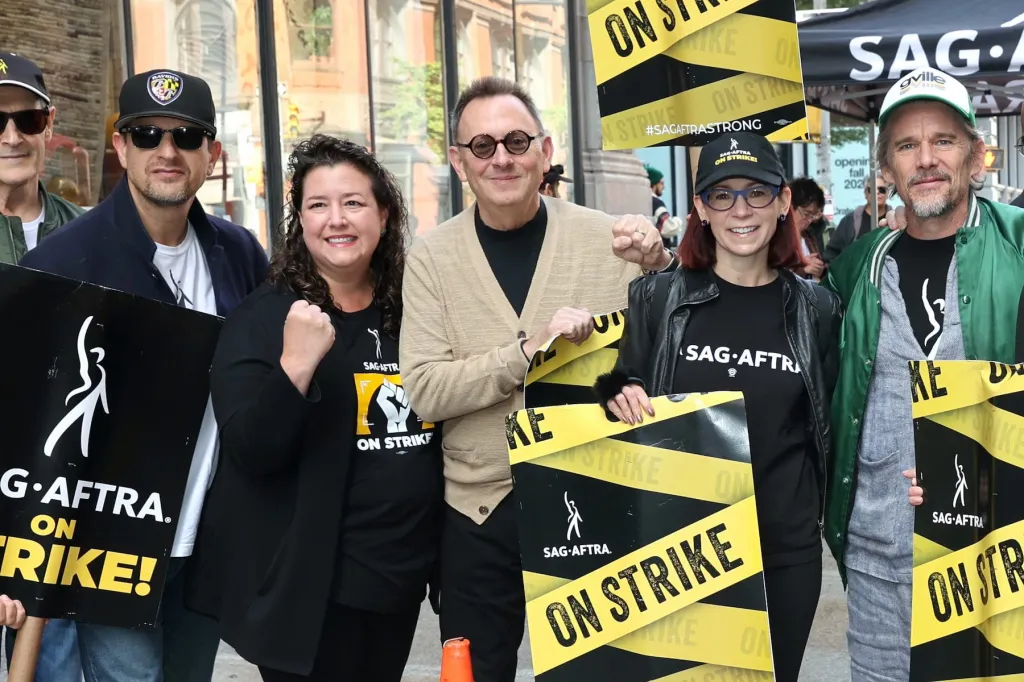 Hawke says he expected the strike to end last week while eating a coffee-soaked donut. He checked the headlines every morning in the hopes of finding a finalized agreement but was eventually disappointed.
"The longer it goes on the more angry and frustrated with corporate entities I become," Hawke says. "The reason to strike is getting more clear."
For months, actors have marched throughout the country demanding wage rises that are inflation-adjusted, AI protections, a drop in Hollywood studio revenue, and other demands. On October 2, the Screen Actors Guild and the American Federation of Television and Radio Artists (SAG-AFTRA) met with Hollywood executives for the first time since the strike began on July 14. The Alliance of Motion Picture and Television Producers, which represents Hollywood streamers and studios, walked away from the table after five days of face-to-face bargaining spread over eight days of negotiations.
As a member of both the actors' and writers' unions, Hawke rejoiced with the Writers Guild of America when the union reached a tentative agreement last month and again on Oct. 9 when writers ratified a new contract that improved wage increases for streaming services, minimum staffing levels, and AI protections. Back on the phone with the actors, he described Hollywood executives' greed as "overwhelming." 
"They control the keys to the kingdom as far as getting things seen right now, but if they don't want to play ball, we'll find other ways to make art," Hawke says.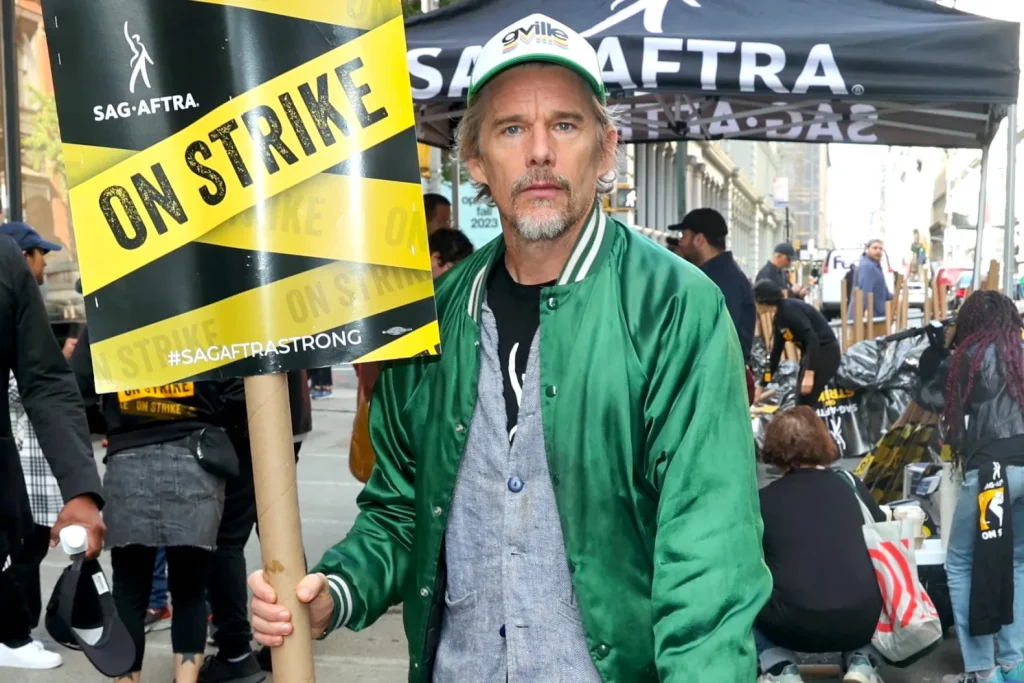 During last week's bargaining meetings, Ted Sarandos, co-CEO of Netflix, Bob Iger, CEO of Disney, David Zaslav, CEO of Warner Bros. Discovery, and Donna Langley, chief content officer of NBCUniversal, were present. Members of the SAG-AFTRA negotiating committee unveiled a subscriber-based plan on October 11 that would charge businesses 57 cents annually per subscriber. The 57 cents per subscriber, or what Sarandos referred to as a "levy," was "a bridge too far" for him, so he forced them to cease talks.
Michael Emerson (Lost), who has walked picket lines with his wife Carrie Preston (True Blood), described the 57-cent offer as painless. When performers demand equitable pay, Hollywood executives are taken aback, he adds.
"That's their answer to everything: it's too much, it's too much. As if to say, 'What did you do to get a piece of our pie?' Who makes the damn thing? Whose faces are on the screen? Who learns the lines? I mean, it seems so obvious to me," Emerson says.
That's their answer to everything: it's too much, it's too much. As if to say, 'What did you do to get a piece of our pie?' Who makes the damn thing? Whose faces are on the screen? Who learns the lines?
SAG-AFTRA New York local president Ezra Knight joined other members of the SAG-AFTRA negotiating committee on the picket line on Thursday. Regarding the discussions with the Hollywood CEOs last week, Knight notes that it's a two-way street and that he hasn't received any indication that the AMPTP will be back at the table very soon.
"You couldn't help but have a feeling of momentum and expectation as the WGA got their deal for their reasons and their terms," Knight tells Rolling Stone. "We want our deal with our reasons and our terms, but it felt like we were going to reach that space in a more rapid sense. So, it was a bit of a disappointment."
Hawke claims that the over 100-day strike proves that performers can work without the help of Hollywood studios and streaming services. Under the SAG-AFTRA interim agreement, he just directed Wildcat, a film on the life of writer Flannery O'Connor (played by his daughter Maya Hawke).
Hundreds of productions have secured interim agreements, which allow independently produced and financed productions unaffiliated with the AMPTP to resume production. The job stoppage has strengthened support for independent cinema, according to Hawke, who is optimistic about the future.
"It would be great if the Oscars were full of 10 independent movies," he says.