Paramount Plus is a streaming platform based in the US that offers an extensive library of TV shows, movies, and Originals. Moreover, you can also stream live sports through Paramount Plus on Xfinity. However, the issue is that Paramount+ is geo-restricted only to the US region and cannot be accessed anywhere else.
But fret not. These restrictions can be eliminated with the help of a premium VPN provider. By subscribing to one, such as the trusted ExpressVPN, you can connect to a server based in the US and easily unblock Paramount+ from anywhere.
To know more about streaming Paramount Plus on Xfinity, continue reading the article.
How to Sign Up for Paramount Plus on Xfinity? [Easy Steps]
Follow the given easy steps to sign up for Paramount Plus on Xfinity:
Press the Xfinity button on your remote.
Go to 'Apps'.
Select the Paramount+ icon.
After opening the app, click on 'Sign Up for Paramount+'.
Choose one of the plans you prefer.
Select whether you want to be billed monthly or annually.
Enter the required details to create your account.
Click on 'Subscribe' to finish the sign-up process.
You may now enjoy streaming Paramount+ on your Xfinity Flex or X1.
Note: If you're residing outside the US, Canada, or Australia, you will have to subscribe to a premium VPN provider and connect to a US-based server of the VPN in order to unblock Paramount+.
---
How to Sign In to Paramount Plus on Your Xfinity?
If you have an existing account on Paramount+, follow these steps below to sign in on your Xfinity:
Press the 'Xfinity' button on your remote. Or say 'Paramount+'  into your Xfinity Voice Remote to open the app.
Go to the 'Apps' menu on your Home screen.
You can sign in using two options: On my TV or On the Web.
Upon selecting 'On my TV,' you'll be asked to enter your email and password.
If you select 'On the Web,' you'll be given a Paramount+ link and an activation code.
Visit the link provided on your mobile or web browser.
Enter the code to sign in.
That's it! You're done signing in now and ready to enjoy streaming on Paramount+.
Top 3 VPNs to Stream Paramount Plus on Xfinity Outside the US
Described in detail below are three of the most reliable and highly acclaimed VPN providers. Let's take an in-depth look at each of them.
ExpressVPN – Highly Efficient VPN

ExpressVPN is, without a doubt, one of the most renowned VPNs and an expert at its job. Here's a look at its outstanding features:
ExpressVPN is the finest VPN to unblock Paramount+ outside the USA, with 3,000 servers in 94 countries (including  25 locations in the US)
ExpressVPN has a monthly fee of $6.67 (Special Discount) for a 1-year plan + an additional 3 months. You can avail of this amazing discount and save 49% on the subscription.
24/7 customer support is provided to the users.
ExpressVPN unblocks streaming sites like  Netflix, Disney+, Hulu, and Amazon Prime Video.
You can operate eight connections simultaneously.
User data is shielded by AES-256 encryption, TrustedServer network, and private DNS.
ExpressVPN's US servers provide download speeds of 89.42 Mbps, upload speeds of 84.64 Mbps, and a low ping of 110 ms with a 100 Mbps connection.
30-day money-back is guaranteed.
---
Surfshark – Highly Cost-Efficient VPN

Surfshark is affordability and competitive features combined under one VPN provider. These are the features it offers:
Surfshark owns over 3,200 servers in 100 countries and over 600 servers in the US.
Surfshark utilizes a WireGuard tunneling mechanism, assuring the security and enhancement of your browsing and streaming activities.
Surfshark's 24-month subscription plan costs around $2.39 monthly with 85% off.
Users also get the benefit of an additional 2 months of free service.
Surfshark allows infinite logins.
Surfshark unblocks well-known geo-restricted streaming platforms like Hulu, Netflix, Amazon Prime Video, Disney+, and Peacock, among others.
Surfshark blazing fast servers provide download speeds of 86.24 Mbps and upload speeds of 53.72 Mbps on a 100 Mbps connection.
---
NordVPN – Highly Trusted VPN

NordVPN is a very powerful VPN that has earned the trust of tech geeks worldwide. These are the features that distinguish it from its competitors:
NordVPN has a tremendous server web with 5,400 servers in 59 countries, including 15 advanced servers in the US.
You can buy NordVPN for $3.99 per month or $107.73 for the first 2 years, with a 62% discount and an opportunity to withdraw within the first 30 days.
NordVPN protects user data through numerous tunneling protocols.
You can link up to six devices at a time.
Firestick, Xbox, Playstation, Nintendo, Switch, Raspberry Pi, Chromebook, Chromecast, and Kindle Fire are compatible with NordVPN.
NordVPN uses AES 256-bit encryption, a strict no-logs policy, extra features like a kill switch, established streaming mode, and a friendly user interface are the unique features of the service provider.
NordVPN easily bypasses famous geo-blocked sites like Hulu, Disney+, and Sling TV.
---
Why Do You Need A VPN To Watch Paramount Plus on Xfinity?
As mentioned above, Paramount+ is a streaming service available only within the US and a few other locations. Aside from those regions, it cannot be accessed anywhere else.
If you try to stream the platform's content from outside the US, you'll get the following geo-restrictive error on your screen:
"Paramount+, home to the world's favourite stars, stories and brands, is coming soon*. Get ready to experience stellar originals, exclusive premieres, hit movies and the very best must-see TV."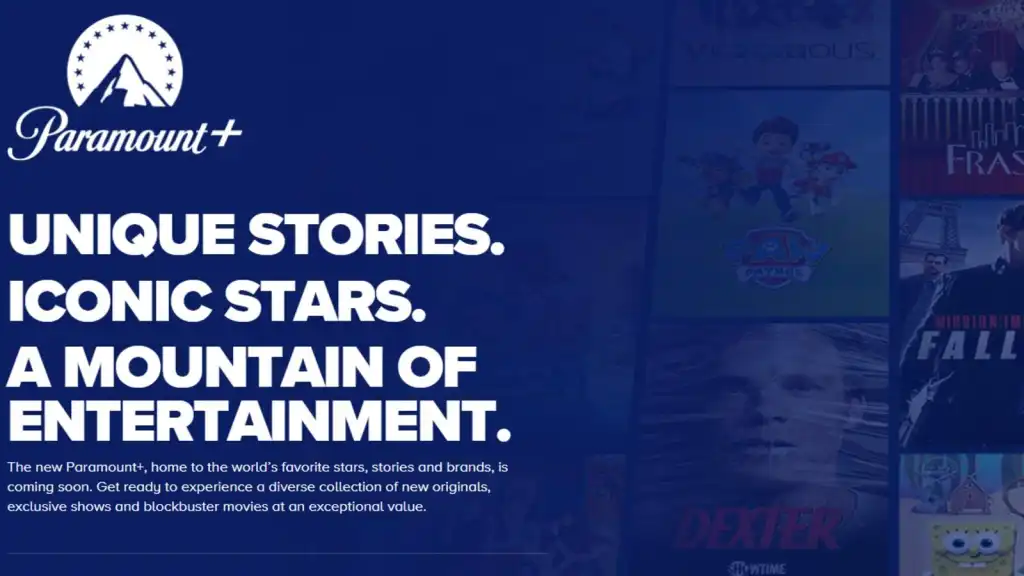 If you want to bypass this error, you'll have to employ the help of a reputable VPN provider, such as ExpressVPN. A VPN can help you hide your true location by connecting you to a server based in the US. This way, you can bypass Paramount+ geo-limitations and stream your desired content with ease.
---
Can I Use a Free VPN to Unblock Paramount Plus on
Yes, you can use a free VPN to unblock Paramount+. However, I would not recommend you do so due to certain technical and unethical issues.
A free VPN cannot be relied upon to bypass the strong security put in place by Paramount+ and, consequently, won't be able to let you unblock the platform. They are not technically built the same way as premium VPNs are to break past geo-restrictions. Plus, they do not possess the server network and speeds you need to stream Paramount+.
Additionally, free VPNs are also known to be involved in selling their users' data to third parties in order to make up for their expenses. So, while you may be thinking you're getting their services for free, this is the actual cost you're paying for.
Hence, it is advised that you rely only upon a paid VPN provider that neither compromises on quality of service nor your privacy and security.
---
Why is Paramount Plus Not Working With a VPN? – Quick Fixes
There are certain problems you may run into while using a VPN for Paramount+ on Xfinity. Below are some trusted solutions for those problems:
Check your internet connection to see if it is stable and adequate to stream Paramount+ on Xfinity. Otherwise, you can try moving closer to your router.
Connect your ethernet cable if the above method doesn't help. An ethernet cable is more reliable than a Wi-Fi connection.
Clear cookies and cache on both your Paramount+ and VPN apps since they may be storing location data.
Force close your Paramount+ app and relaunch it.
Restart your Wi-Fi router and see if it helps.
Make sure your Paramount+ subscription is active and hasn't expired.
---
What Are the Paramount Plus Plans and Their Prices?
Paramount+ has two plans to offer to its subscribers. Both of the plans include a 7-day free trial. Their prices and other features are mentioned below:
Subscription Plan
Plan Price
Features
Paramount+ Essential
$5.99/month after trial

1000+ titles to stream
NFL on CBS & UEFA Champions League
Ad-supported plan
Live news with CBS news

Paramount+ with SHOWTIME
$11.99/month after trial

1000+ titles to watch
No more ads
SHOWTIME Originals
Download titles on your mobile
Live TV with CBS
---
How to Change Your Paramount+ Subscription Plan?
If you wish to upgrade or downgrade your subscription plan, follow the steps below:
Go to the 'Settings' of your Paramount+ account.
Navigate to the 'Apps & Subscription Management' menu.
Select the new plan you wish to change to.
Click on 'Change Plan'.
Do note that if you upgrade, you'll be charged the additional amount immediately. But if you downgrade, your new charges will be implemented in your next bill.
---
How to Cancel Your Paramount+ Subscription?
If you wish to discontinue your Paramount+ subscription, you can follow these steps:
Go to your Paramount+ account 'Settings.'
Next, go to the 'Apps & Subscription Management' menu.
Click on 'Unsubscribe'.
You'll be taken to a second screen and asked to 'Unsubscribe' again.
---
Xfinity Models Compatible with Paramount Plus
Aside from a Paramount+ subscription and an Xfinity internet service, you'll need one of the models below to stream Paramount+ on Xfinity:
Xfinity Flex

Xi6 streaming TV Box
XiOne streaming TV Box

Xfinity X1

XG2v2 (Non-DVR; Pace Model)
XG1v3 (DVR; Arris or Pace Model)
XG1v4 (DVR; Arris Model)
XiD (Non-DVR; Pace or Cisco Model)
Xi5 Wireless TV Box (Non-DVR; Pace Model)
Xi6 Wireless TV Box (Non-DVR; Arris or Technicolor Model)
---
FAQs – Paramount Plus on Xfinity
Is Paramount Plus included with Xfinity TV?
Yes, you can get Paramount+ with an Xfinity TV box, but not free of charge. You'll have to subscribe to stream Paramount+ on Xfinity.
Can you get Paramount+ 4K content on Xfinity?
No, Xfinity users do not currently have 4K Paramount+ content available on Flex and X1.
Is using a VPN for unblocking Paramount Plus illegal?
No, it is not illegal to use a VPN for unblocking Paramount+. However, it is advised that you use a VPN within the legal framework and avoid any malicious activities.
How many devices does Paramount Plus let you stream on?
With a single Paramount+ subscription, you can stream on 3 devices at the same time.
---
That's it, Folks!
We have reached the end of this blog post. I hope all your relevant queries have been dealt with in this guide above.
However, if you want to join the many subscribers of Paramount+, a popular streaming service with a wide range of content, remember to use a premium VPN if you are not located in the US. This will help you access the service from anywhere.
That, my friends, is all. Your favorite shows and movies are now waiting to be downloaded, so hurry up!