You can't be a true anime fan without having watched the world-famous Naruto series. The comic was written and illustrated by Masashi Kishimoto, and the first episode of the animated series was released on October 3, 2002.
Having run for over two decades and 1,000 episodes, the anime continues with Naruto's legacy with no sign of ending anytime soon.
If you're a fan of the anime series Naruto and are keen on witnessing Naruto's legendary journey to become the Hokage of his village, then you may be wondering how to watch Naruto in order.
Well, this article provides a comprehensive guide to watching Naruto seasons and movies chronologically, allowing you to follow the events in the timeline as they happened. Without further ado, let's get started with the article.
---
Watch Naruto in Order of Chronology
The world of Naruto is divided into two parts, including ten movies. Here's a guide on those parts and the season and movies each part is comprised of.
Naruto Original Series
This part begins with the young Naruto in his village when he embarks upon his journey to become the greatest ninja. This is your starting point:
Naruto (episodes 1-101)
Naruto The Movies: Ninja Clash in the Land of Snow
Naruto (episodes 102-160)
Naruto The Movie: The Legend Stone of Gelel
Naruto (episodes 161-196)
Naruto The Movie: Guardians of the Crescent Moon Kingdom
Naruto (episodes 197-220)
Naruto Shippuden Series
This is a follow-up of the original Naruto series, where Naruto faces newer and more complex challenges in his journey:
Naruto: Shippuden (episodes 1-32)
Naruto Shippuden: The Movie
Naruto: Shippuden (episodes 33-71)
Naruto Shippuden The Movie: Bonds
Naruto: Shippuden (episodes 72-126)
Naruto Shippuden The Movie: The Will of Fire
Naruto: Shippuden (episodes 127-143)
Naruto Shippuden: The Lost Tower
Naruto: Shippuden (episodes 144-196)
Naruto Shippuden The Movie: Blood Prison
Naruto: Shippuden (episodes 197-251)
Naruto The Movie: Road to Ninja
Naruto: Shippuden (episodes 252-493)
The Last: Naruto The Movie
Naruto: Shippuden (episodes 494-500)
However, there is also a third part based on Naruto's off-spring Boruto Uzumaki, created after Shueisha proposed to Kishimoto that a sequel to Naruto be made.
---
Where to Watch Naruto in Order?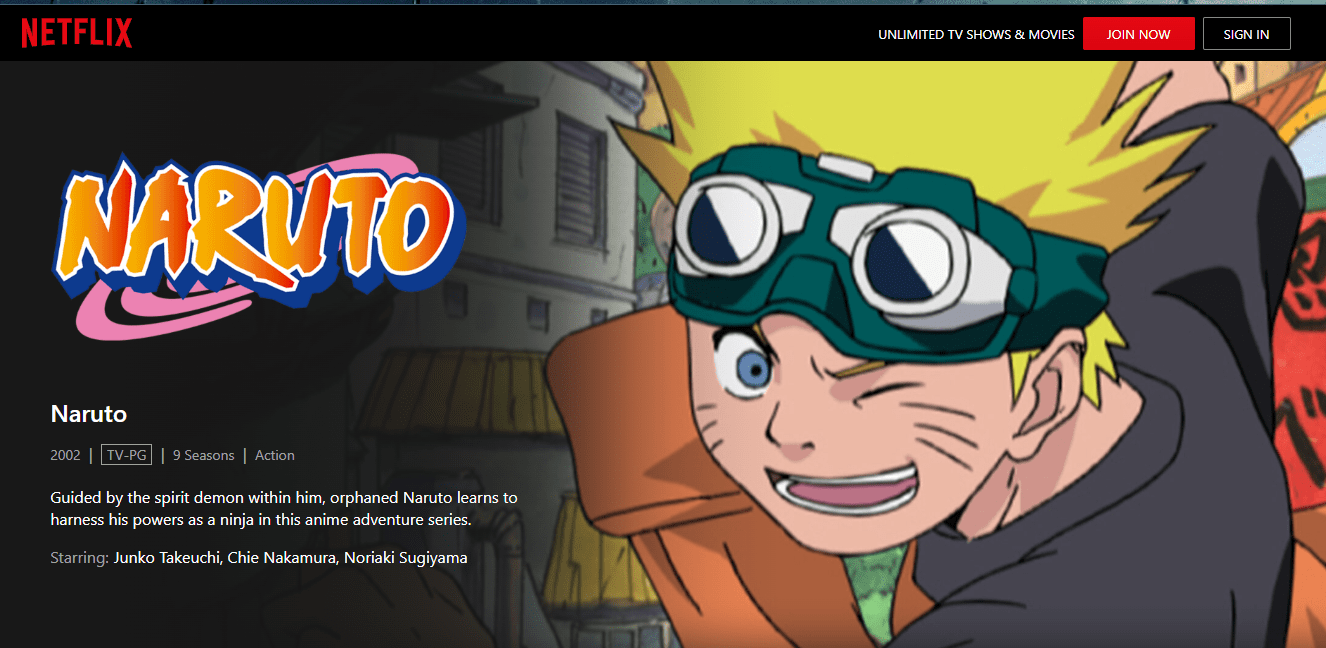 You can easily watch Naruto in order on Netflix as these titles are available for streaming. However, logging into your Netflix account and streaming the series may be more complex.
This is because Netflix has region-specific libraries, which, simply put, means that each of the regions has varying content.
This means that while you may have only some of the above-mentioned Naruto titles available in your region, another region, such as Canada or Japan, has more of these titles.
If you wish to access Netflix's Canadian or Japanese library and stream all of your region's Naruto series and movies, you will need a premium VPN provider.
---
How to Watch Naruto in Order with a VPN?
With the help of a reliable VPN provider, you can access all the Naruto titles available in other regions' libraries by simply connecting to your desired region's server.
Follow these steps to do that:
Subscribe to a trusted VPN provider. I'd recommend ExpressVPN.
Download and install the VPN app on your device.
Sign in to the VPN app using your credentials.
Connect to a Canadian server.
Go to the official website of Netflix.
Search for your desired Naruto title, and start streaming!
---
3 Reliable VPNs to Watch Naruto in Order
To save you the time-consuming research on finding the right VPN for accessing Netflix's Canadian library, I've discussed 3 of the most recognized VPNs below, alongside their unparalleled features:
ExpressVPN — Highly Efficient VPN

ExpressVPN has unmatched expertise when it comes to bypassing geo-restrictions. It is equipped with the following features:
ExpressVPN is the finest VPN to watch Naruto in order, with 3,000 servers in 94 countries (including 25 locations in the US).
ExpressVPN has a monthly fee of $6.67/month (Special Discount) for a 1-year plan + an additional 3 months. You can avail of this fantastic discount and save 49% on the subscription.
24/7 customer support is provided to the users.
ExpressVPN unblocks streaming sites like Netflix, Disney+, Hulu, and Amazon Prime Video.
You can operate eight connections simultaneously.
User data is shielded by AES-256 encryption, TrustedServer network, and private DNS.
ExpressVPN's US servers provide download speeds of 89.42 Mbps, upload speeds of 84.64 Mbps, and a low ping of 110 ms with a 100 Mbps connection.
30-day money-back is guaranteed.
---
Surfshark — Highly Budget-friendly VPN

If you're searching for an affordable yet powerful VPN provider, Surfshark is your best option. Its features are mentioned below:
Surfshark owns over 3,200 servers in 100 countries and over 600 servers in the US.
Surfshark utilizes a WireGuard tunneling mechanism, assuring the security and enhancement of your browsing and streaming activities.
Surfshark's 24-month subscription plan costs around $2.39 monthly with 85% off.
Users also get the benefit of an additional 2 months of free service.
Surfshark allows infinite logins.
Surfshark unblocks well-known geo-restricted streaming platforms like Hulu, Netflix, Amazon Prime Video, Disney+, and Peacock, among others.
Surfshark blazing fast servers provide download speeds of 86.24 Mbps and upload speeds of 53.72 Mbps on a 100 Mbps connection.
---
NordVPN — Highly Credible VPN

NordVPN takes your online security just as seriously as you do. It comes with the following specifications:
NordVPN has a tremendous server web with 5,400 servers in 59 countries, including 15 advanced servers in the US.
You can buy NordVPN for $3.99 per month or $107.73 for the first 2 years, with a 62% discount and an opportunity to withdraw within the first 30 days.
NordVPN protects user data through numerous tunneling protocols.
You can link up to six devices at a time.
Firestick, Xbox, Playstation, Nintendo, Switch, Raspberry Pi, Chromebook, Chromecast, and Kindle Fire are compatible with NordVPN.
---
In Which Regions can I Watch Naruto in Order with a VPN?
Aside from Canada, you can also connect to the following regions' servers to access their libraries, as they, too, have a significant Naruto collection:
USA
Japan
France
Argentina
Germany
Belgium
India
All the 3 VPNs mentioned above have servers based in these regions.
---
On Which Other Platforms Can I Watch Naruto in Order?
You can watch Naruto series and movies on the following platforms, too:
Crunchyroll
Funimation
Hulu
Amazon Prime Video
---
FAQS
Can we skip Naruto movies?
You can skip most Naruto movies, except for 'Naruto: The Last' and 'Boruto: Naruto the Movie.'
What is the difference between Naruto and Naruto Shippuden?
The main difference is that in the Naruto original series, Naruto and his friends are young. As for the follow-up, Naruto Shippuden, everyone is grown up and close to adulthood with the responsibility of protecting their villages.
What age was Naruto in Episode 1?
In the first episode, when Naruto's journey begins, he is barely twelve years old.
Is using a VPN to watch Naruto on Netflix legal?
It is legal to watch the Naruto series and movies on Netflix via a VPN. However, you must refrain from using the VPN for suspicious online activities.
---
Wrapping Up!
So, this is how you can simply watch Naruto in order, from when he's a little menace to when his son decides to carry the torch of his father's legacy. I hope all your queries were answered in this article.
Remember that you must subscribe to a reliable VPN provider that will let you access various regions' libraries on Netflix to stream the entire Naruto timeline. Have fun streaming!