If you are a newbie who has merely stepped into the Marvel Cinematic Universe and wish to watch all the Marvel movies in order, this article is here to your rescue.
With 32 released and more upcoming titles under the Marvel project, it can be pretty complex, and understandably so, to watch all of them in the correct order to fully understand the entire timeline.
Whether you wish to start from the beginning with Tony Stark's action-filled life or the war-ridden beginning as told from the perspective of Captain America when the whole madness actually begins, this list will guide you to stream all of the titles in the correct order.
---
Watch Marvel Movies in Order of Release Date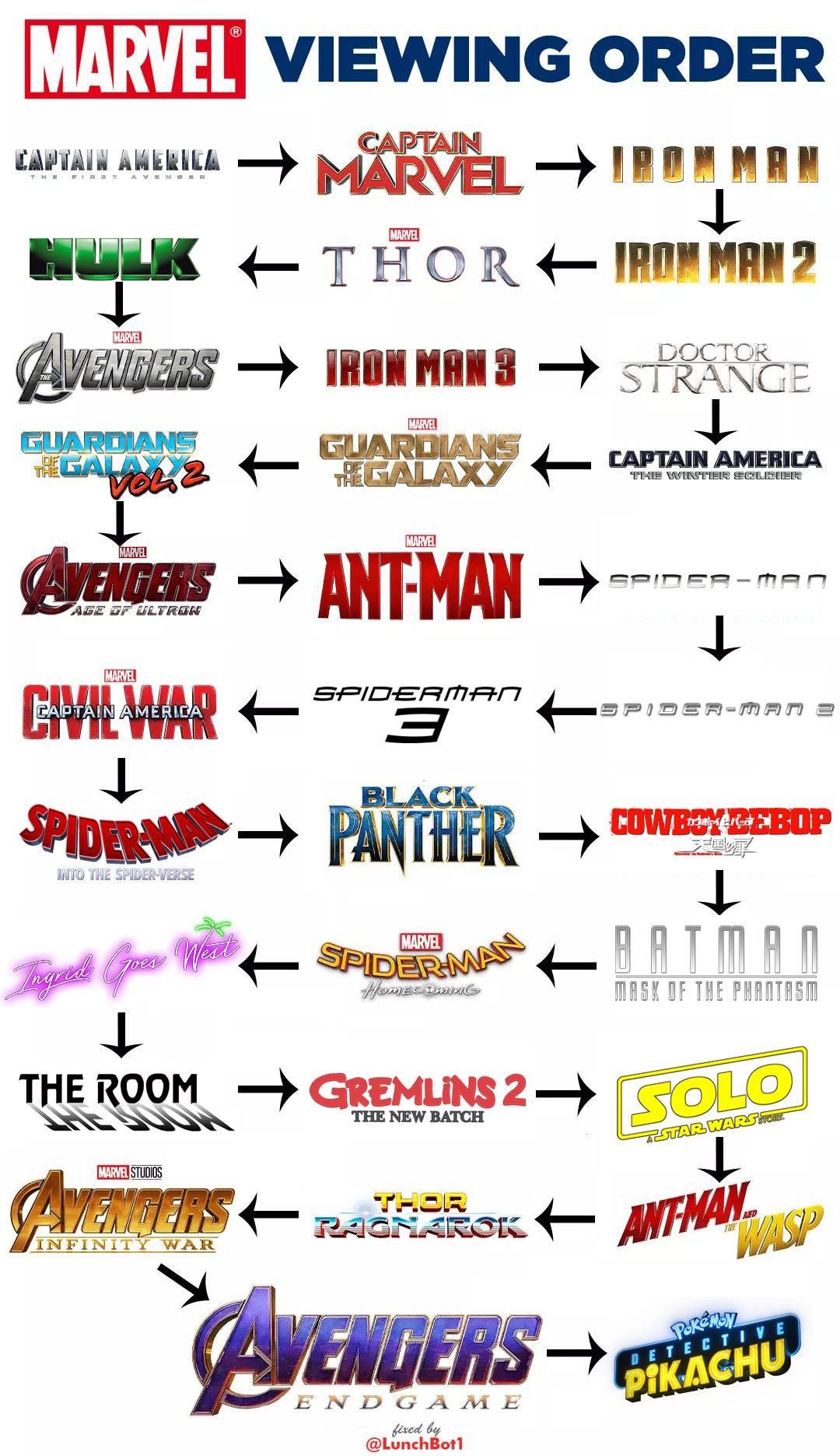 Here are all the MCU movies mentioned in accordance with their release dates. This list does not start with the story of the very first Avenger, Captain America, but with Iron Man, who was the first to be introduced in the MCU.
Phase One: The Infinity Saga (2008-2012)
Iron Man (May 2, 2008)
The Incredible Hulk (June 13, 2008)
Iron Man 2 (May 7, 2010)
Thor (May 6, 2011)
Captain America: The First Avenger (July 22, 2011)
Marvel's The First Avengers (May 4, 2012)
Phase Two (2013-2015)
Iron Man 3 (May 3, 2013)
Thor: The Dark World (November 8, 2013)
Captain America: The Winter Soldier (April 4, 2014)
Guardians of the Galaxy (August 1, 2014)
Avengers: Age of Ultron (May 1, 2015)
Ant-Man (July 17, 2015)
Phase Three (2016-2019)
Captain America: Civil War (May 6, 2016)
Doctor Strange (November 4, 2016)
Guardians of the Galaxy Vol. 2 (May 5, 2017)
Spider-Man: Homecoming (July 7, 2017)
Thor: Ragnarok (November 3, 2017)
Black Panther (February 16, 2018)
Avengers: Infinity War (April 27, 2018)
Ant-Man and the Wasp (July 6, 2018)
Captain Marvel (March 8, 2019)
Avengers: Endgame (April 26, 2019)
Spider-Man: Far From Home (July 2, 2019)
Phase Four: The Multiverse Saga (2021-2022)
Black Widow (July 9, 2021)
Shang-Chi and the Legend of the Ten Rings (September 3, 2021)
Eternals (November 5, 2021)
Spider-Man: No Way Home (December 17, 2021)
Doctor Strange in the Multiverse of Madness (May 6, 2021)
Thor: Love and Thunder (July 8, 2022)
Black Panther: Wakanda Forever (November 11, 2022)
Phase Five (2023-2024)
Ant-Man and the Wasp: Quantumania (February 17, 2023)
Guardians of the Galaxy Vol. 3 (May 5, 2023)
The Marvels (November 11, 2023)
Captain America: New World Order (May 3, 2024)
Thunderbolts (July 26, 2024)
Blade (September 6, 2024)
While the previous five phases have been released, movies in the MCU's sixth phase are yet to be released according to the scheduled dates mentioned below:
Phase Six (2024-2026)
Deadpool 3 (November 8, 2024)
Fantastic Four (February 14, 2025)
Avengers: The Kang Dynasty (May 2, 2025)
Avengers: Secret Wars (May 1, 2026)
---
Where to Watch Marvel Movies in Order?
You can watch most of these titles on Disney Plus, a US-based streaming platform that will let you stream the aforementioned titles upon subscribing to one of their plans.
However, it must be noted that Disney Plus is a geo-restricted streaming platform that is restricted to the US and a few other regions. Moreover, the content also varies from region to region, which means that even if Disney Plus is available in your region, you may only be able to access some of the MCU movies offered by Disney Plus.
To get past these geo-restrictions and access various regions' libraries on Disney Plus, you will need a premium VPN provider. Read below for more details.
---
How to Watch Marvel Movies in Order?
When you subscribe to a reliable VPN provider, it easily bypasses all and any geo-limitations and lets you access blocked content across the internet. All you need to do is simply connect to a server based in the US, and voila! You're ready to enter the fantastic world of the Marvels.
Follow these simple steps below to watch Marvel movies in order with a VPN:
Subscribe to a reliable VPN provider, such as ExpressVPN.
Download and install the VPN app on your device.
Sign in to the VPN app with your login information.
Connect to a US-based server. Preferably, the New York server.
Go to the official website of Disney+.
Log in to your Disney+ account.
Search for the MCU title you wish to stream and enjoy!
---
3 Best VPNs to Watch Marvel Movies in Order?
If you do not know which VPN to subscribe to, fret not. Mentioned below are the 3 highly trusted VPNs that can easily unblock Disney+ for you from anywhere you may be.

ExpressVPN is one of the most trusted VPNs for unblocking geo-restricted content because this one never fails you. Here are the features it offers:
ExpressVPN is the finest VPN to watch Marvel Movies in Order, with 3,000 servers in 94 countries (including 25 locations in the US).
ExpressVPN has a monthly fee of $6.67/month (Special Discount) for a 1-year plan + an additional 3 months. You can avail of this fantastic discount and save 49% on the subscription.
24/7 customer support is provided to the users.
ExpressVPN unblocks streaming sites like Netflix, Disney+, Hulu, and Amazon Prime Video.
You can operate eight connections simultaneously.
User data is shielded by AES-256 encryption, TrustedServer network, and private DNS.
ExpressVPN's US servers provide download speeds of 89.42 Mbps, upload speeds of 84.64 Mbps, and a low ping of 110 ms with a 100 Mbps connection.
30-day money-back is guaranteed.
---
Surfshark — Most Affordable VPN

Surfshark is the VPN users resort to if they're looking for an inexpensive option with the same features as any renowned VPN. It has the following specifications:
Surfshark owns over 3,200 servers in 100 countries and over 600 servers in the US.
Surfshark utilizes a WireGuard tunneling mechanism, assuring the security and enhancement of your browsing and streaming activities.
Surfshark's 24-month subscription plan costs around $2.39 monthly with 85% off.
Users also get the benefit of an additional 2 months of free service.
Surfshark allows infinite logins.
Surfshark unblocks well-known geo-restricted streaming platforms like Hulu, Netflix, Amazon Prime Video, Disney+, and Peacock, among others.
Surfshark blazing fast servers provide download speeds of 86.24 Mbps and upload speeds of 53.72 Mbps on a 100 Mbps connection.
---
NordVPN — Most Secure VPN

NordVPN guarantees your safety online with its strict security features that keep online threats to your data at bay. These are the features it offers:
NordVPN has a tremendous server web with 5,400 servers in 59 countries, including 15 advanced servers in the US.
You can buy NordVPN for $3.99 per month or $107.73 for the first 2 years, with a 62% discount and an opportunity to withdraw within the first 30 days.
NordVPN protects user data through numerous tunneling protocols.
You can link up to six devices at a time.
Firestick, Xbox, Playstation, Nintendo, Switch, Raspberry Pi, Chromebook, Chromecast, and Kindle Fire are compatible with NordVPN.
NordVPN uses AES 256-bit encryption, a strict no-logs policy, extra features like a kill switch, established streaming mode, and a friendly user interface are the unique features of the service provider.
NordVPN easily bypasses famous geo-blocked sites like Hulu, Disney+, and Sling TV.
---
FAQs
How many MCU movies are there in 2023?
There are 4 Marvel movies, which were scheduled for release in 2023. Those already released include 'Ant-Man and the Wasp: Quantumania,' 'Guardians of the Galaxy Vol. 3', and 'Spider-Man: Across the Spider-Verse.' The fourth one, 'The Marvels,' is yet to be released on November 10, 2023.
Is the MCU ending in 2025?
Phase 6 of the Marvel Cinematic Universe will end in 2025. As for the MCU itself, it can safely be said that it is not ending any time soon.
Is there a region difference on Disney Plus?
Yes, there are slight differences in the content you can access in different regions on Disney Plus.
Can Disney Plus detect VPNs?
Disney Plus actively blocks IP addresses it deems suspicious and accounts it believes are using a VPN. However, you can avoid getting blocked by using a premium VPN provider that is safe for unblocking Disney Plus.
---
Closure
Considering that you're new to the MCU madness, it is advised that you watch these Marvel movies in order of their release dates to avoid getting confused by the complicated web that this MCU timeline is.
A thrilling journey waits for you ahead; however, before you begin, ensure you've got a reputable VPN provider to get you past the geo-restrictions of Disney+. You may now tune in to the adventures and inventions of Tony Stark.