Travis Scott said he is "devastated" by the Astroworld tragedy, in which 10 people lost their lives — the youngest of them was nine years old—due to compressive asphyxia brought on by a surge in the audience at his concert in Houston on November 5, 2021.
In a recent interview with GQ, the "Goosebumps" rapper—who was on stage at the time of the incident—broke his silence when asked if he planned to address the incident on his newly nominated album, Utopia.
@Jackboyflame98
tweeted on X that
Travis Scott is GQ's Musician of the Year!
This tweet gained over 79k views in 16 hours.
GQ names Travis Scott "Musician Of The Year"

— UTOPIA (@Jackboyflame98) November 15, 2023
"Making music, you think about things that go on in life and things that happen in your life, and you dial in on things," he said.
Scott continued, "That moment for families, for the city, you know, it was devastating. And when it came to making, like even finishing the album… I got back into it probably like, I don't know, months and months and months after. And the idea of just even getting back into music, working on music and just even getting into that, was therapeutic of being able to channel some of the energy into production and sounds and finishing it."
In retrospect, Scott described his mental condition following the incident as "overly devastated," adding, "I always think about it. Those fans were like my family. You know, I love my fans to the utmost."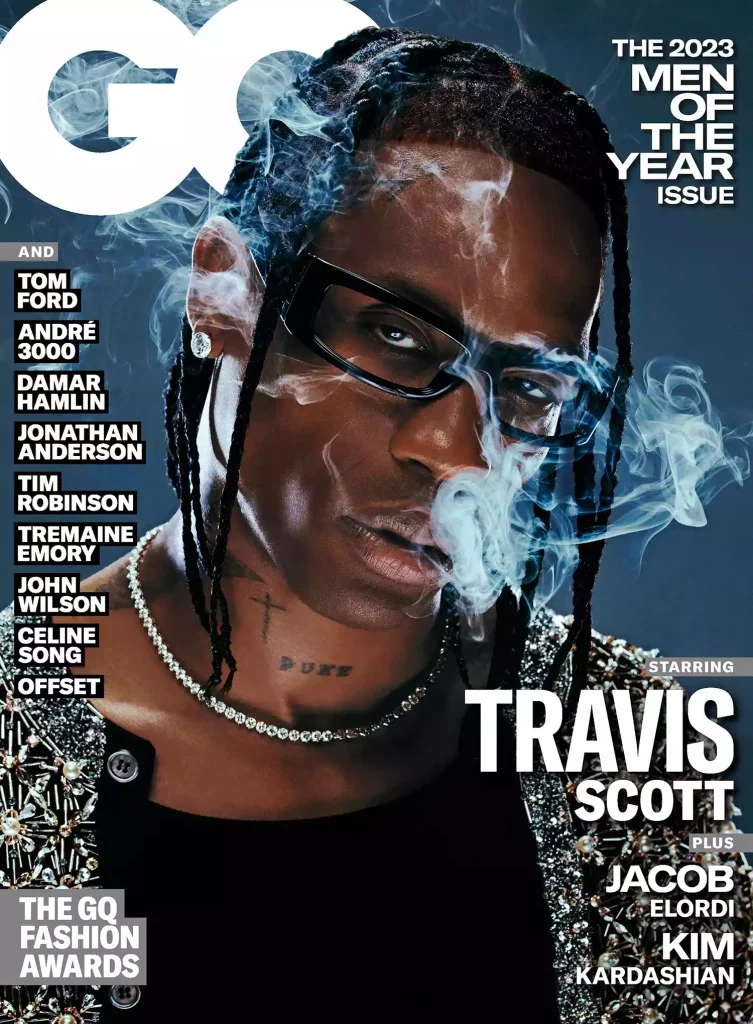 On November 5, 2021, a crowd surge at the outdoor festival in Houston resulted in the deaths of ten concertgoers aged nine to twenty-seven. Roughly 300 persons were treated for injuries, and 11 suffered from cardiac arrest; hundreds more of the fifty thousand people there were injured.
In the Utopia song "My Eyes," Scott makes reference to the occurrence, saying it represents "the things I deal with on a day-to-day basis and the fact of how it could be misunderstood and the struggles of life and all aspects of life. The constant weight that's put on."
The final stanza of the song features Scott rapping, "I replay them nights, and right by my side, all I see is a sea of people that ride wit' me / If they just knew what Scotty would do to jump off the stage and save him a child."
He said the lyrics "just came out" when he was writing "My Eyes," telling GQ, "Like I said, it was a real moment. The song is emotional to me. It's one of my favorite songs on the album. And that verse means a lot to me."
In addition, Scott wants listeners to learn something else from the song. "To know I have pain too," he said. "I have concerns, things that I think about, and the things I see on a day-to-day basis I think about them. And every day I want to find change in the things, to make things better, make myself better. It's just like: I go through things like everyone else. And even recently through something like I never could imagine."
After the incident, the rapper released a statement expressing his willingness to cooperate with the Houston Police Department in their investigation.
"I'm absolutely devastated by what took place last night," he wrote on Twitter the following day. "My prayers go out to the families and all those impacted by what happened at Astroworld Festival."
— TRAVIS SCOTT (@trvisXX) November 6, 2021
Later, he shared his thoughts about the night on Instagram Stories, stating that he was trying to find the families so he could support them during their loss.
"My fans really mean the world to me," he said, "and I always want to leave them with a positive experience."
Regarding the hundreds of lawsuits that were filed against him and others for the deaths and injuries at the 2021 Astroworld concert, the artist was deposed in September for almost eight hours in Houston.
Scott's lawyers claimed his phone was lost at sea after falling off a boat in the Gulf of Mexico in 2022 – after lawyers representing the plaintiffs in the 2021 Astroworld disaster asked him to turn over his phone records.
Despite not being charged criminally, Scott is still the subject of almost 1,500 civil lawsuits, according to court records from April that The Associated Press obtained.