Following the MTV Video Music Awards on Tuesday, the "Only Murders in the Building" star posted an Instagram story declaring that she "will never be a meme again" after her emotions went viral.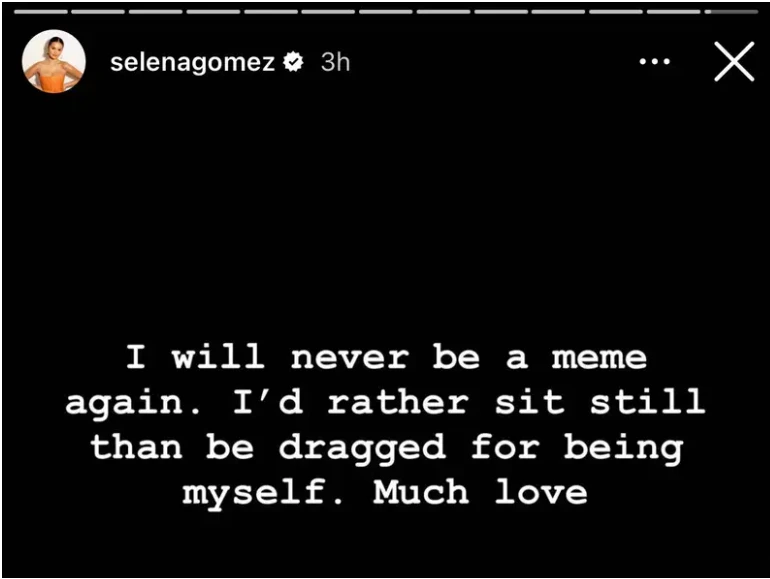 "I'd rather sit still than be dragged for being myself. Much love," she went on to say.
Gomez was captured on camera many times during Tuesday's ceremony, where she and Rema got the award for best afrobeats video for their collaboration "Calm Down," making what fans deemed meme-worthy reactions.
The most prominent was when Chris Brown was named one of the nominees for best R&B video. When his name was called, the camera went to Gomez, who seemed to scrunch up her face and stop clapping.
Elsewhere in the show, the "Single Soon" singer gained attention for her reaction to Rodrigo's performance.
Rodrigo played a mash-up of songs from her recently released album "Guts," and as she belted out "Vampire," the set began to fall around her, replicating the song's music video. Gomez was seen gazing on, looking perplexed.
Some X users thought Gomez was "covering her ears" to block off Rodrigo's singing, but others praised her reaction and stated that Gomez was "thinking something was wrong on stage," as one user put it.
Another user stated: "This is completely unfair and out of context: Olivia pretended to have her set break down and semi-explode as she was fake rushed off stage, and Selena was reacting to that."
@selwishie shared stills of Selena Gomez's reaction:
Selena Gomez living meme #VMAs pic.twitter.com/rRvRNeMymi

— sevval | single soon (@selwishie) September 13, 2023
@PopSwiftCrave another fan reacts to Selena Gomez's reaction:
The switch from Selena Gomez to Taylor Swift during Demi Lovato's performance has me crying 😭 pic.twitter.com/AD0SVdhwuB

— Swift Crave ♥︎ (@PopSwiftCrave) September 13, 2023
@cyberbei shares a short clip where it can clearly be seen Selena isn't enjoying Rodrigo's performance:
Not Selena Gomez covering her ears during Olivia Rodrigo performance 😭 pic.twitter.com/aeXjQ8tl2e

— annoyed (@cyberbei) September 13, 2023
@ourselenasg yet another fan notes Gomez's displeasure during Rodrigo's performance:
the vmas isn't about people winning awards anymore, it's about selena gomez reactions pic.twitter.com/icjIdj1yAi

— H (@ourselenasg) September 13, 2023
Selena Gomez has been through lots of ups and downs in her personal life but she has managed to triumph over them all, including her battle with lupus. Wishing her the best for her career as an actor and musician.
Every picture of Rema with Selena Gomez that I've seen, he's always calm and composed. This boy was born with that superstar aura. There's no one else better to be the new face of Afrobeats than him. pic.twitter.com/XwEeY33YXf

— LERRY (@_AsiwajuLerry) September 13, 2023
Among Selena Gomez's meme-worthy reaction, Taylor Swift's record-tying achievements is another notable event that transpired this VMA 2023, as she walked out of Prudential Center with the Most VMA Wins in a Single Night.