Sean Penn is questioning Will Smith's reaction to punching Chris Rock at the Oscars.
In a recent interview with Variety, Penn, 63, criticized Smith, for slapping Rock, as soon as he entered the Academy Awards stage in March 2022. Smith later won Best Actor for King Richard that evening, making an impassioned acceptance speech. Smith attended afterparties honoring the victory after the show.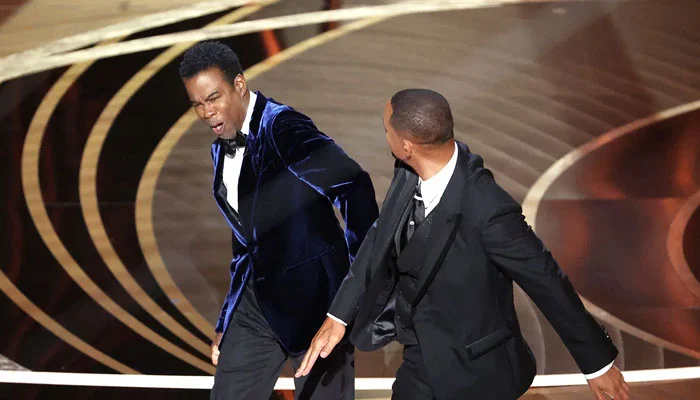 Penn prefaced his statements to Variety,
"I don't know Will Smith. I met him once. He seemed very nice when I met him. He was so f—ing good in King Richard," 
He continued, "So why the f— did you just spit on yourself and everybody else with this stupid f—ing thing? Why did I go to f—ing jail for what you just did? And you're still sitting there? Why are you guys standing and applauding his worst moment as a person?"
In 1987, when he was 26 years old, Penn was given a 60-day county jail sentence for hitting and spitting on an extra while working on the film Colours, according to a report from the Los Angeles Times. His sentence was completed in 33 days.
The actor also has been charged in numerous past incidents, including one in 2010 in which he was given a three-year probationary period and 300 hours of community service after assaulting a photographer, per the LA Times.
Following his Oscars outburst, Smith issued an apology and withdrew from the Academy of Motion Picture Arts and Sciences, which imposed a 10-year attendance ban on him.
He said in a video message last year, "My behavior was unacceptable," and added that he is "trying to be remorseful without being ashamed of myself."
"I'm human. I made a mistake and I'm trying not to think of myself as a piece of s—," said Smith at the time.
Producer of the 2022 Oscars Will Packer previously disclosed during a Good Morning America interview that if Rock had chosen to file charges, police would have been ready to arrest Smith during the ceremony.
"They were saying, 'This is battery' — the word they used in that moment. They said, 'We will go get him. We are prepared to get him right now, you can press charges. We can arrest him.' They were laying out the options," Packer said at the time. In the end, Rock declined to press charges.
Penn has created a new documentary about Ukraine's conflict with Russia. He told Variety that he was disappointed that the Oscars did not allow Ukrainian President Volodymyr Zelenskyy to deliver a message during the program, as other award shows did at the time.
"The Oscars producer thought, 'Oh, he's not light-hearted enough.' Well, guess what you got instead? Will Smith!" said Penn. He added, "This f—ing b—s— wouldn't have happened with Zelenskyy. Will Smith would never have left that chair to be part of stupid violence. It never would have happened."
Penn also explained why he gave his Oscar statuette to Zelenskyy in November. (He won Best Actor for Mystic River in 2004 and Milk in 2009.)
He said,
"I thought, well, f—, you know? I'll give them to Ukraine. They can be melted down to bullets they can shoot at the Russians."