Paris Hilton has opened out about how hurt she is by the response to a recent picture of her 8-month-old son, Phoenix Barron.
The TV personality responded to the nasty remarks on her Instagram Story by saying that it is "unacceptable" for fans to "target" her child.
On Oct. 19, Hilton, 42, shared a series of images of her son, whom she shares with her husband Carter Reum, on Instagram to mark his first trip to New York City. After a TikTok user brought attention to the harsh comments on the post, Hilton responded by saying that her "angel is perfectly healthy" and "just has a large brain."
In an Instagram Story post on Monday, Hilton went into further detail in reaction to remarks made regarding Phoenix's head. "Living life in the spotlight, comments are inevitable, but targeting my child, or anyone else's for that matter, is unacceptable," she began.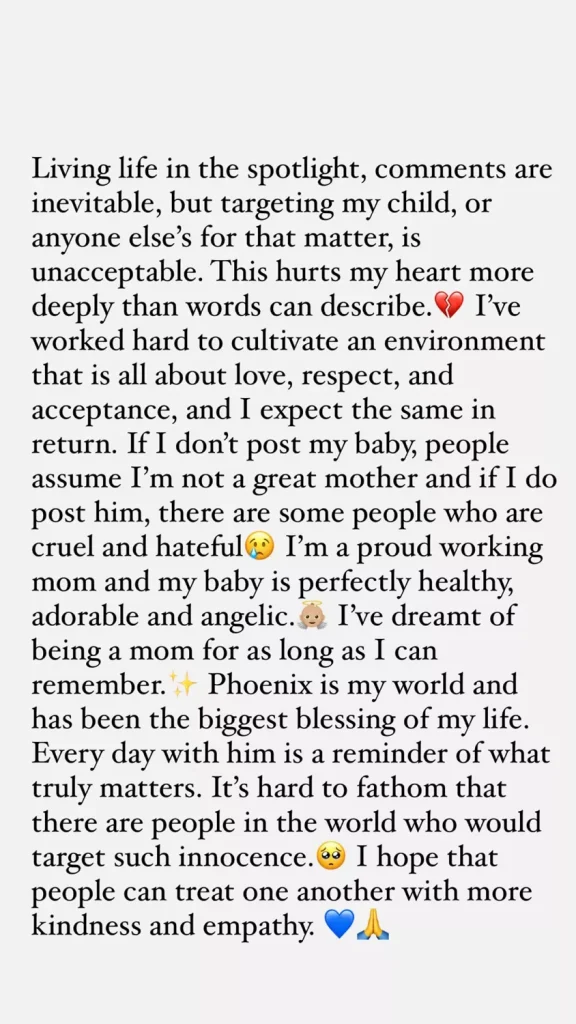 Hilton stated that the public's reaction "deeply" hurt her. "This hurts my heart more deeply than words can describe. I've worked hard to cultivate an environment that is all about love, respect, and acceptance, and I expect the same in return," wrote the new mom.
The Paris in Love actress also stated that handling parenting as a social media figure has put her in the spotlight.
"If I don't post my baby, people assume I'm not a great mother and if I do post him, there are some people who are cruel and hateful I'm a proud working mom and my baby is perfectly healthy, adorable and angelic," Hilton continued, writing that her son has grown to be her life's "biggest blessing." 
"I've dreamt of being a mom for as long as I can remember," she explained. "Every day with him is a reminder of what truly matters." 
Hilton concluded, "It's hard to fathom that there are people in the world who would target such innocence. I hope that people can treat one another with more kindness and empathy."
After getting married in 2021, Hilton and Reum, 42, welcomed their first child together on January 16 via surrogacy. On Instagram, Hilton revealed the news of Phoenix's arrival eight days after his birth, sharing a close-up picture of herself holding his hand along with the caption, "You are already loved beyond words 💙."
View this post on Instagram
Hilton also disclosed to PEOPLE that she and Reum are not the only couple raising their child. The parents of the "Stars Are Blind" singer, Kathy Hilton, and Rick Hilton are lending them assistance.
"[My parents] are just so obsessed with him," Hilton said. "I'm always calling my mom and my sister [Nicky Hilton] for advice, and I'm really lucky that I'm so close with my family, so I have such a big support group."
View this post on Instagram