In light of the ongoing rape accusations against comedian Russell Brand, a former This Morning star has predicted that Brand will experience "karma."
During the height of his success, the comedian and Hollywood actor, 48, was charged with rape, sexual assault, and emotional abuse, according to a joint investigation by The Times and Channel 4's Dispatches.
Dr. Ranj Singh, a former resident physician on This Morning, has responded to the accusations. He posted the following on his Instagram stories on Saturday night:
"Watching the C4 Dispatches tonight… Sadly it's no surprise. It highlights a systemic issue in the TV/entertainment industry.

"Men in positions of power abusing that privilege to take advantage of others. This is not the first nor the last instance. There will be more being exposed. Karma is a b***h. And she's coming for you,"
The former ITV star continued by praising the courageous women who brought the accusations against Brand. The famous doctor posted the following on Instagram:
"To the women who have spoken out about Brand, to those who have spoken out about another powerful comedian or figure only to be ignored, and to all those who have felt silenced by a powerful man in the media – we love you, we are rooting for you, we love you, we are here."
---
The Production Company has Launched an Investigation after Allegations that Russell Brand 'used personnel as pimps'
After staff alleged they were treated like "pimps" for the comedian, the production company behind a TV show hosted by Russell Brand immediately opened an investigation.
The investigation by Banijay UK comes after the former actor and broadcaster was accused of rape, sexual assault, and emotional abuse of four women between 2006 and 2013, when he was at the height of his stardom.
In a joint investigation by The Sunday Times and Channel 4's Dispatches programme, the 48-year-old has categorically denied the "very serious criminal allegations."
Staff who worked alongside Brand on Big Brother spin-off shows EFourum and Big Mouth during the mid-2000s claimed they were made to feel like "pimps" for him, as he used them to single out young ladies in the crowd for sex.
"Russell's pointing out women that he found attractive in the audience, then getting the runners to get their details so that they could meet up after the show," one woman added.
"I distinctly remember getting phone calls from women in tears the next day saying they'd met up with Russell. They were mainly upset because they just felt used."
"It was like we were taking lambs into slaughter. We were basically acting like pimps to Russell Brand's needs."
Another Channel 4 show employee accused Brand of flashing her in his dressing room, claiming his alleged behaviour was a "open secret" in the profession.
"Production companies enabled him to exist in these environments where he was able to take advantage of who he was," she said.
Banijay UK, which acquired Endemol in 2020, issued a statement on Sunday: "In light of the very serious allegations raised by Dispatches and The Times investigation relating to the alleged serious misconduct of Russell Brand while presenting shows produced by Endemol in 2004 and 2005. Banijay UK has begun an immediate internal inquiry and will cooperate with any information requests from broadcast partners and outside agencies.
"We also encourage anybody who feels that they were affected by Brand's behaviour while working on these productions to contact us in confidence."
The charges are a result of an investigation into a number of accusations made against Brand by four women that were published and broadcast on Saturday night.
One woman claimed the presenter sexually assaulted her against a wall at his Hollywood home, and another said she had an abusive three-month relationship with Brand when she was just 16 years old. Brand was 31 years old when the alleged connection started..
Tavistock Wood, Brand's literary agent, dismissed him as a client after the claims surfaced.
The agency stated in a statement that it had been alerted about Brand's alleged behaviour, which he had disputed at the time.
"Russell Brand categorically and vehemently denied the allegation made in 2020, but we now believe we were horribly misled by him," the company said. "TW has terminated all professional ties to Brand."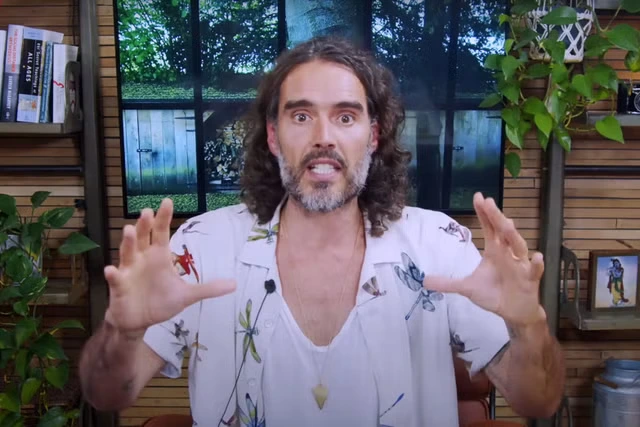 In light of the findings, a nonprofit organization that assists women with addiction and substance abuse broke the connections with the actor.
Trevi Women stated that it was "deeply saddened" to learn about the claims and that it will no longer collaborate with Brand and his Stay Free Foundation.
Brand rejected the charges in a video made ahead of the stories' publication, calling them "a litany of extremely egregious and aggressive attacks" against him.
"These allegations pertain to the time when I was working in the mainstream, when I was in the newspapers all the time, when I was in the movies," he said.
"As I've written about extensively in my books, I was very, very promiscuous. Now, during that time of promiscuity, the relationships I had were absolutely always consensual."
If you've been the victim of sexual assault, you can access help and resources via www.rapecrisis.org.uk or calling the national telephone helpline on 0808 802 9999.